Haitian Die Casting shows a new machine at the 7th International (Dongguan) Metal Casting Show
2017-12-01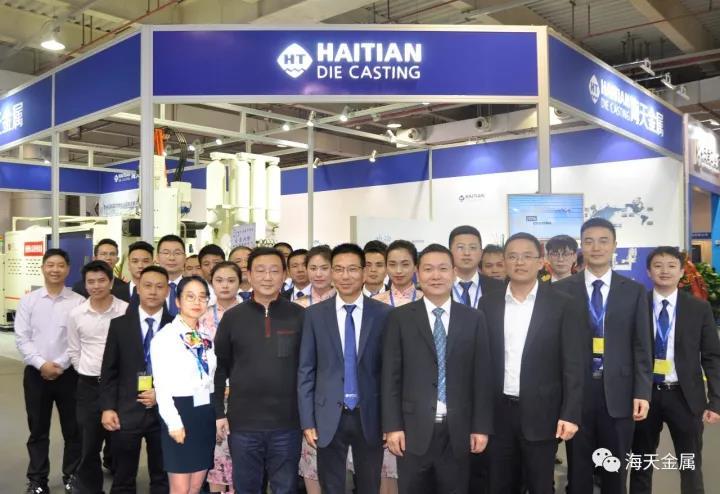 The 7th International (Dongguan) Metal Casting Show, big event of die casting industry, came to a successful close on December 1st. International Metal Casting Show is known as the most influential die casting trade fair in South China and this year the scale of the exhibition reached a new record high, tens of thousands of professional spectators attended the exhibition during four days. Thanks to the increasing demand for aluminum-magnesium alloy die castings in various industries especially auto industry, Ningbo Haitian Die Casting Equipment Co., Ltd. (hereinafter referred to as "Haitian Die Casting") took advantage of this driving force and came to Guangdong, one of the most developed regions in China's die casting industry.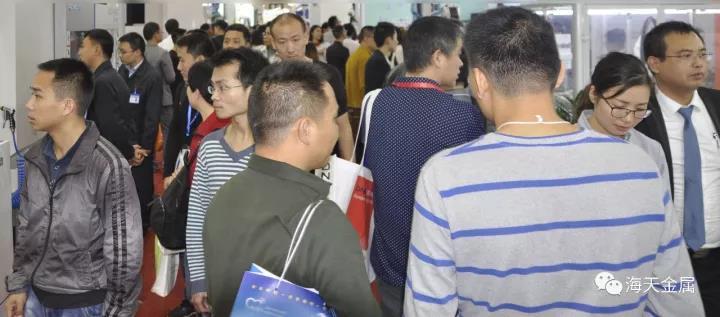 Out of "machine" Guangdong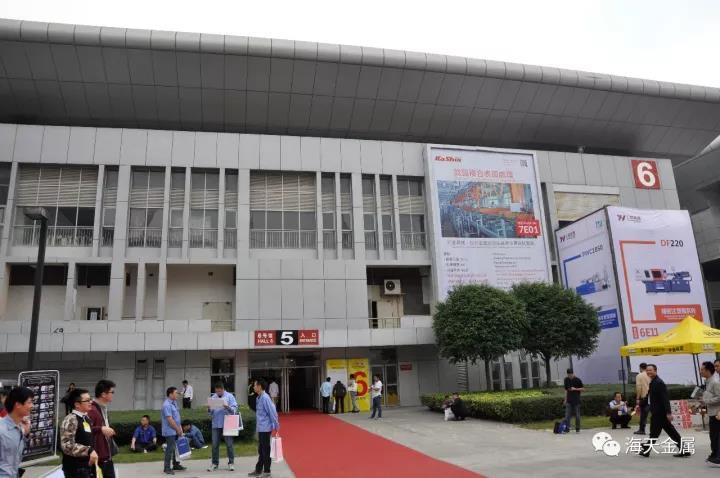 ▲第七届国际(东莞)铸业展在广东现代国际展览中心6号馆举行
Since the HDC series die casting machine launched into the market, it has quickly received popular recognition from the market and customers and achieved gratifying sales results with its product philosophy of "reliability and durability" and great popularity of Haitian brand. At this exhibition, more than 20 people from sales and service teams of the south China region of Haitian Die Casting cooperated with colleagues from the sales and application departments of the Ningbo headquarter of Haitian Die Casting to provide detailed introduction and information for the visitors. During the four days, Haitian Die Casting got orders of more than 20 machines and more than 100 machines were potentially ordered, which lays a solid foundation for the remarkable progress of Haitian Die Casting in South China in 2018.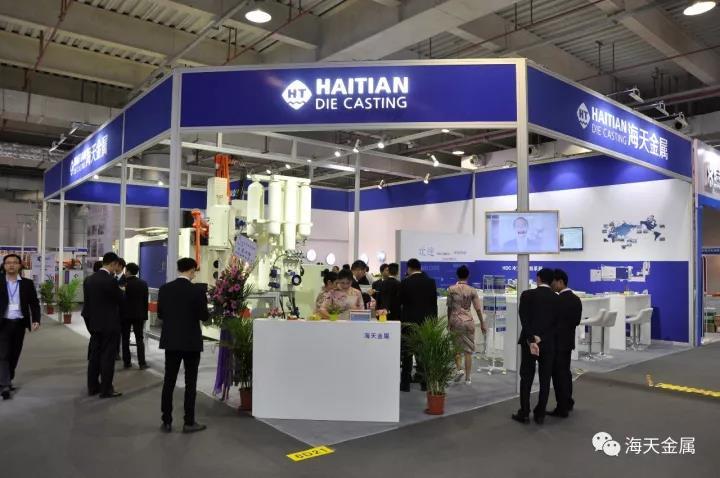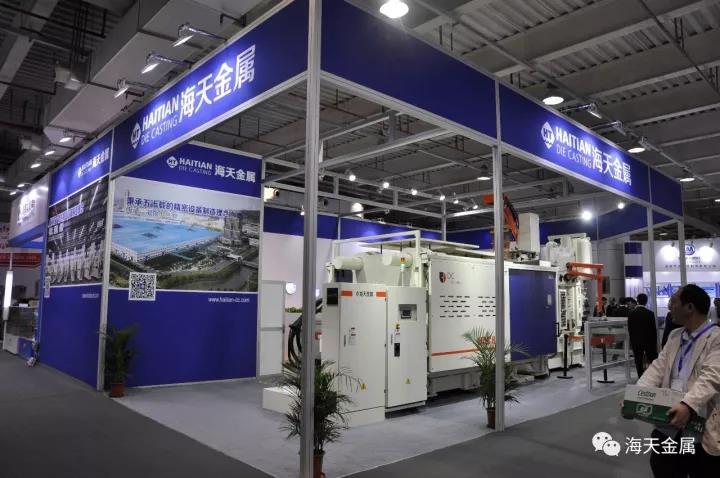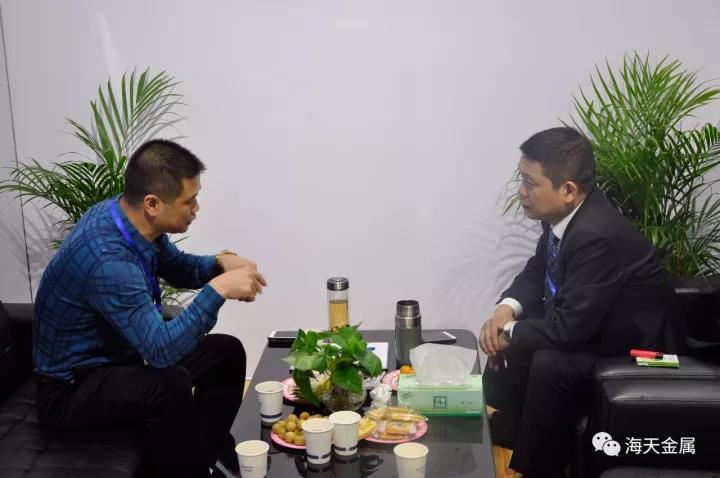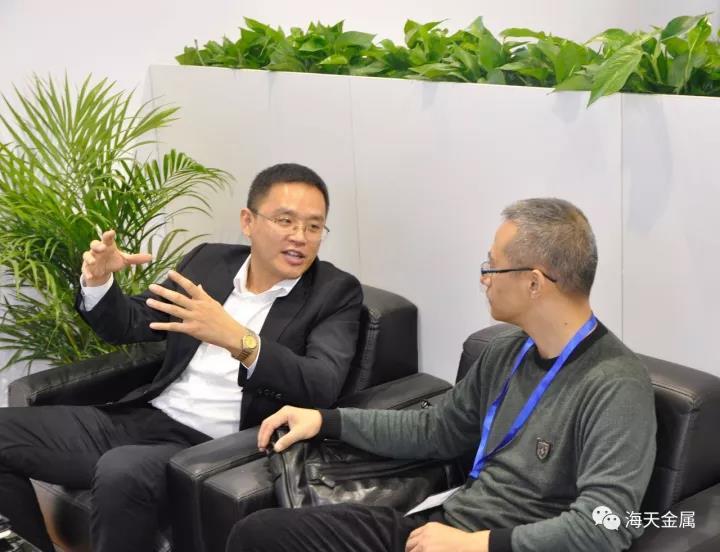 ▲海天金属营销总监洪剑文先生向客户介绍HDC冷室压铸机
▲海天金属营销总监洪剑文先生与中国铸造协会副会长范琦女士合影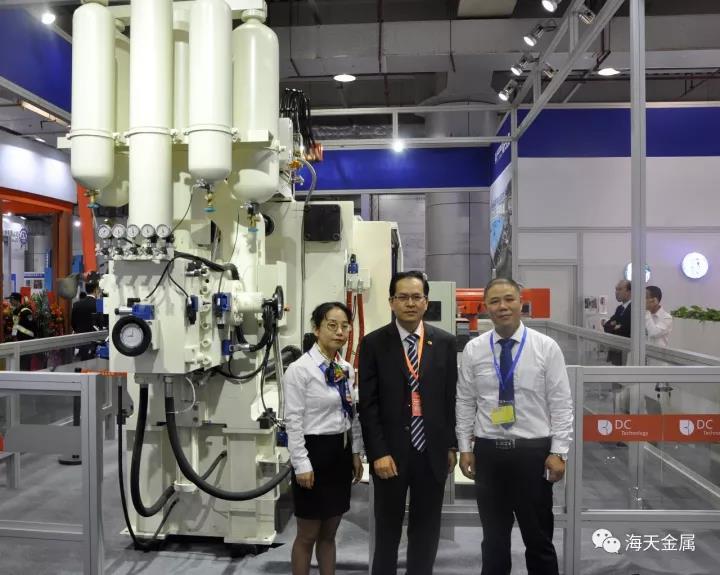 ▲海天金属办公室主任李玲艳女士、海天金属服务科科长刘亚平先生与中国铸造协会副秘书长张山根先生合影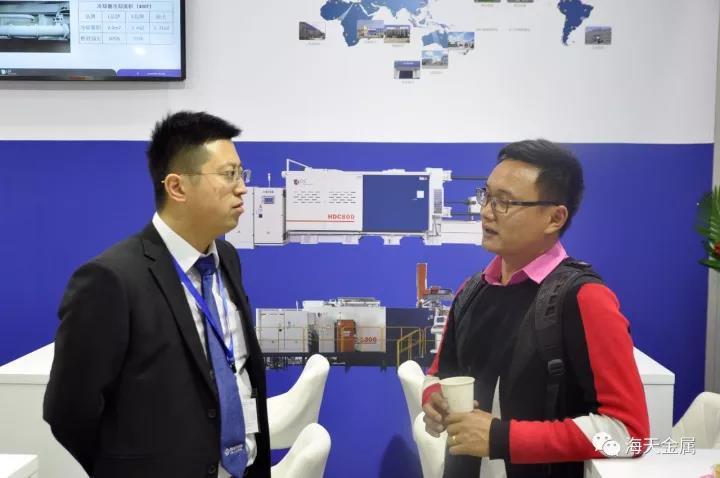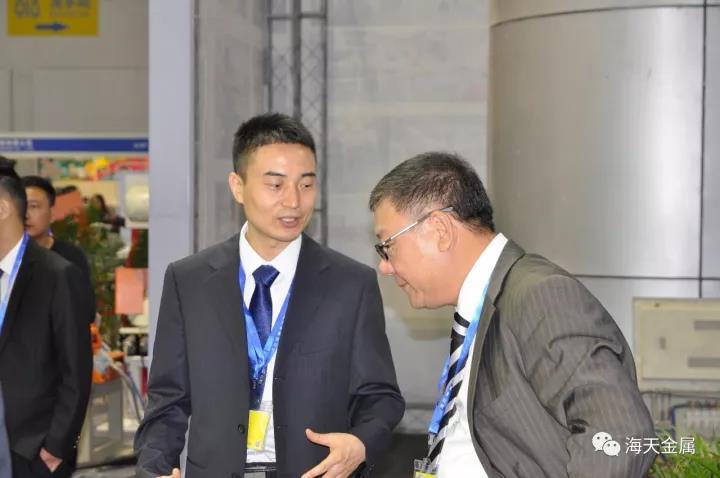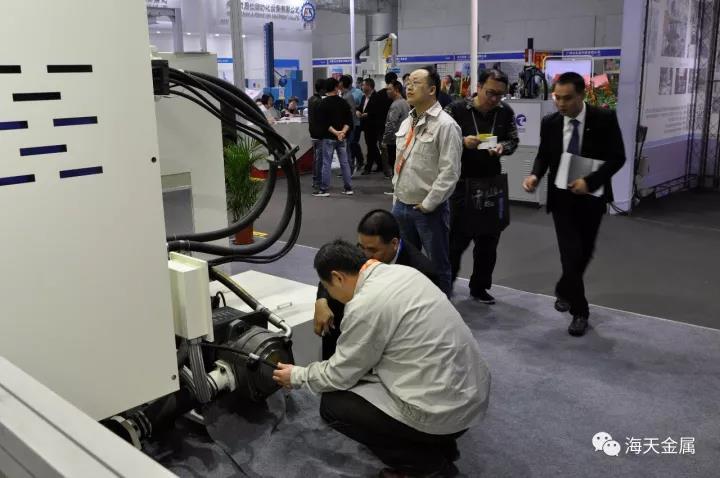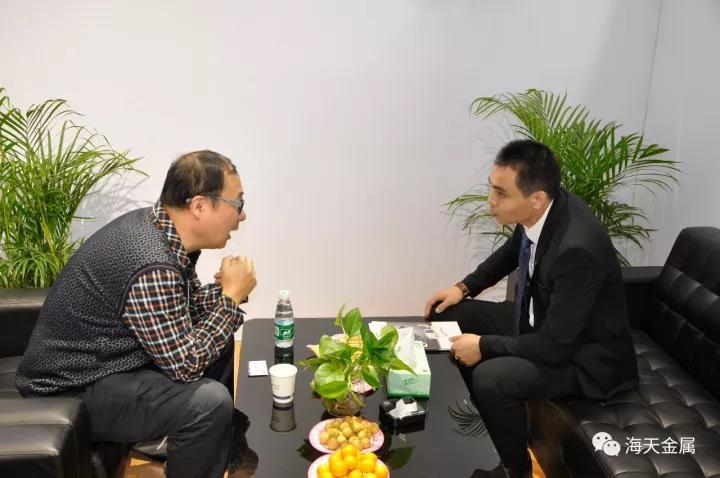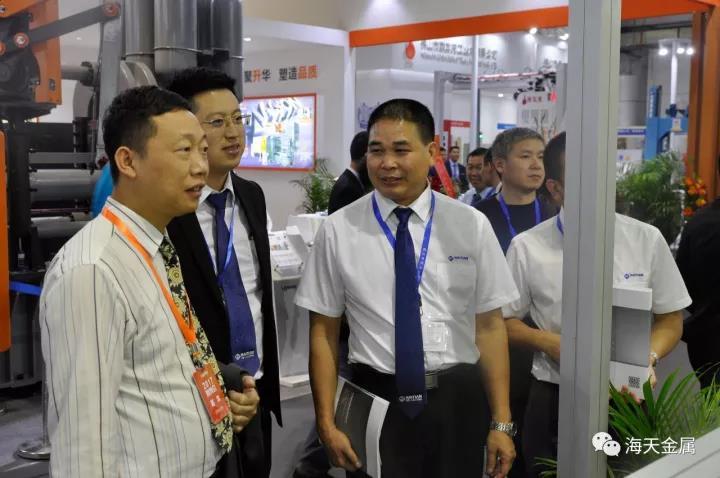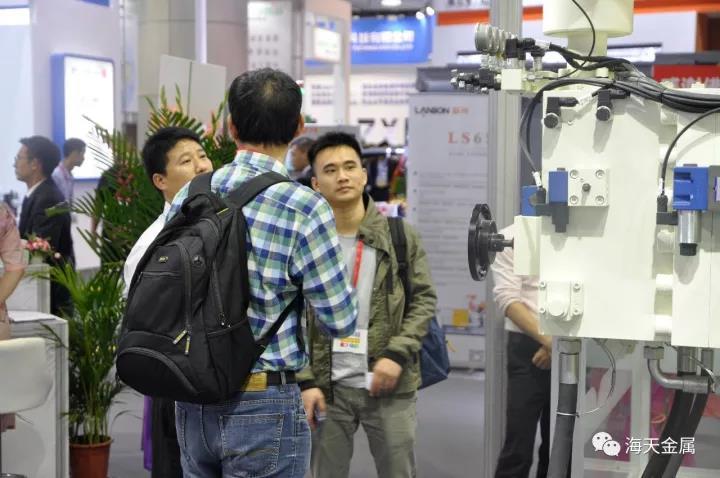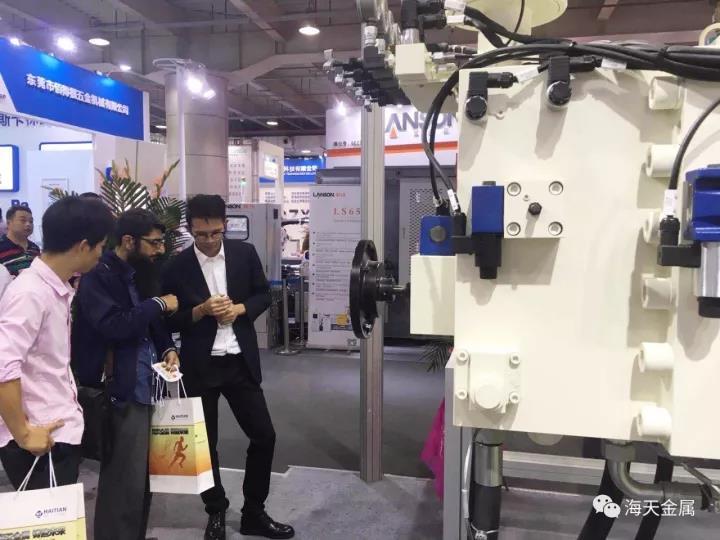 ▲海天金属员工向客户介绍HDC800-SF伺服冷室压铸机
HDC800-SF cold chamber die casting machine impressed the professional spectators with its great performance, equipped with the feeding machine, spraying machine and grasper to form an automatic production unit, which can effectively reduce the number of operators and increase production efficiency and product quality.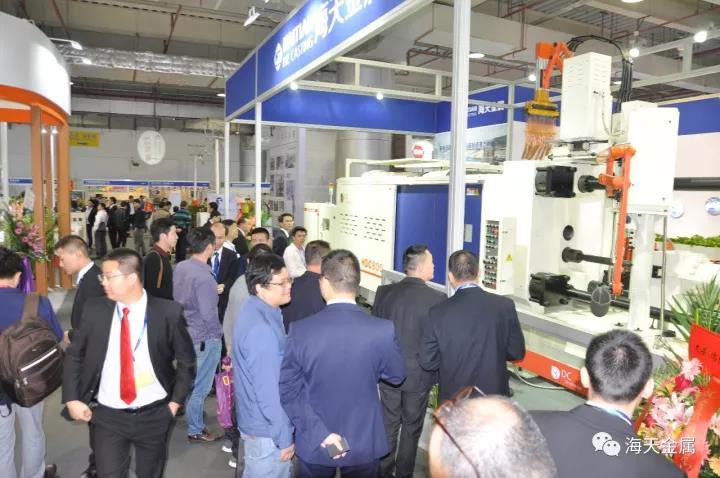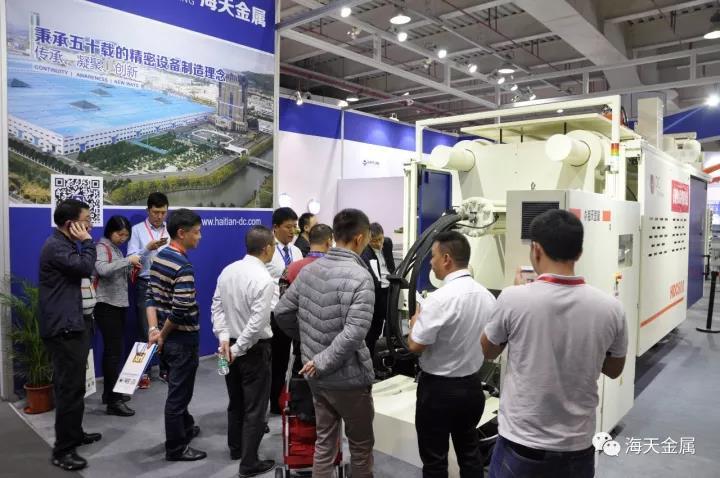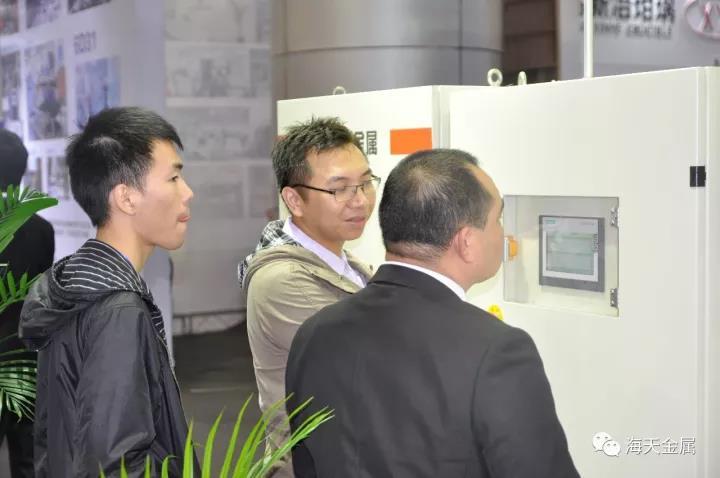 Heavy out of the "machine"
Haitian Die Casting HDC series cold chamber die casting machine adopts many advanced technologies in the industry: I-beam machine bed, special structural platen and tie bar, inter coating imported albronze mold height adjustment nuts, Japanese LUBE lubrication system, integral hydraulic oil platen for injection, Haitian patent check valve, magnetostrictive displacement sensor, etc. The whole machine has the characteristics of large clamping force, fast mold open and close speed, good resistance to shock, fast injection speed, short pressure buildup time, high repeatability, safety, stability, reliability, etc.