2nd Die Casting CEO Summit Visited Haitian Die Casting
2018-10-27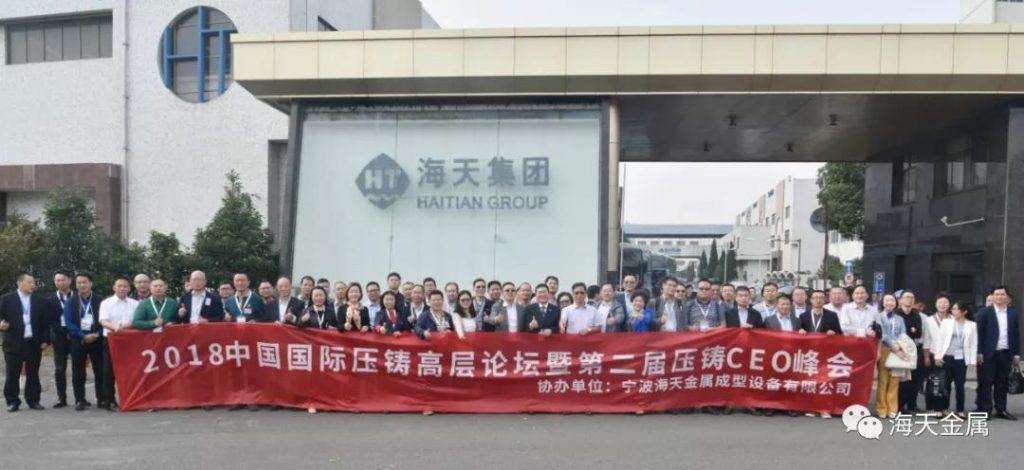 Haitian Die Casting, at the invitation of the 2nd Die Casting CEO Summit, made a report on "How can domestic die casting manufacturers replace imports in the domestic market and expand the international market" in the Bodi Inshow International Hotel On the morning of October 26th, 2018.
Mr. Xu Jianhua, head of Haitian Die Casting Technology Department, said that only by improving the quality of our own products and meeting the needs of users can we expand the international market. Mr. Xu Jianhua also introduced the HDM1650 cold chamber die casting machine which was jointly developed by Haitian Die Casting and Rexroth.
HDM series cold chamber die casting machine is the ingenuity of Haitian Die Casting to standard European high-end products:
Introduction of Rexroth's hydraulic technology and differential structure of the injection cylinder; the shot speed is fast, up to 12 m/s (no-load).
The closed-loop real-time control technology has excellent stability and reproducibility. The pressure setup time can be controlled within 15 m/s.
The mold height adjustment nut behind the rear platen is made of high-strength albronze, the fixed platen and movable platen has the surface covered with P20 steel, and the crosshead guide rod and the main link pin of the toggle are 20% – 30% larger in diameter than what of the competitors, thus to ensure the long service life of the equipment.
The machine adopts distributed IO control layout and the design of machine bed is more concise. Based on the concept of "interconnection and integration" of industry 4.0, the host computer is equipped with interfaces and software programs with various peripheral devices to realize a unified standard interconnection automatic work platform and provide a complete integrated peripheral solution.